« Back to News & Notices
February 2, 2022 Winter Weather Warning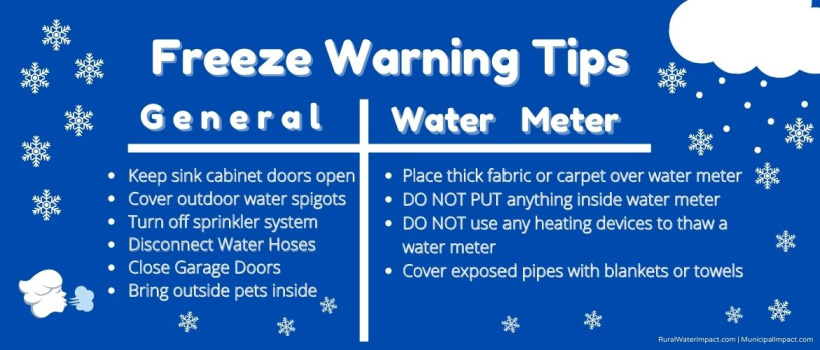 The National Weather Service issued a Winter Storm Warning for the North Texas Area beginning 2/2/2022 through 2/3/2022 (read below). You can visit the Dallas/Fort Worth area updates on the National Weather Service webpage HERE
Be sure to take precautions to keep pipes from freezing, including wrapping or covering outside spigots and exposed pipes, open cabinet doors to keep warm air circulating around your plumbing, and drip cold water from faucets. If you have an irrigation system, a pool, other outdoor systems, or an above-ground backflow device remeber to prepare those as well.
From the National Weather Service:
WINTER STORM WARNING REMAINS IN EFFECT
FROM 6 PM THIS EVENING TO 6 PM CST THURSDAY
* WHAT...A transition from rain to freezing rain, sleet, and snow.
Total ice accumulations of two tenths to half an inch. Sleet
and snow accumulations between 1 to 3 inches.
* WHERE...Portions of north central and northeast Texas.
* WHEN...From 6 PM this evening to 6 PM CST Thursday.
* IMPACTS...Travel will be dangerous. Hazardous travel conditions
will impact the tail end of the Wednesday evening commute and
the Thursday morning and evening commute. Wind chills as low
as 5 below zero could result in hypothermia if precautions are
not taken. Power outages and tree damage will be possible due to
ice..